Much has been said about the fact that over a year ago, Miss World Philippines 2013 Megan Young has achieved a long-coveted milestone that has eluded our country's grasp since joining Miss World in 1965 by finally clinching the crown in Bali, Indonesia.  And not only did she clinch it, as we all witness as her reign draws on that she will go down in history as one of the best regarded Miss World winners of all time (perhaps even actually delivering on her pledge to become "the best Miss World ever").
Whatever the case, the precedent that Megan has set is very lofty, but well, as with almost all beauty pageants, Megan has to crown a successor–first, the one to represent our country in the upcoming Miss World pageant in London this December, then of course crowning the new Miss World winner.  Cory Quirino and company have selected 26 candidates for the task of following Megan's footsteps.  Do any of them have what it takes to continue what Megan has started?
Before I proceed to review the candidates, I have a few notes.  First,  this year's group of candidates seem to be rather competitive, and currently the main standouts are the Filipinas of mixed heritage with non-Filipino-or-Spanish-sounding surnames, which seems to follow the trend of the previous three editions helmed by Cory Quirino.  Second, it's also notable that there is a hearing-impaired contestant in this year's group–can her "special" quality be her ticket to winning over the favorites?  Finally, well, I have a major quibble about the official headshots–the brightly lit, soft-focus effect is not a flattering sight in this day and age, and the style seems rather dated (as in late 1970s / early 1980s dated).
CANDIDATE NO. 1 – Lorraine Kendrickson.  This half-British lady reminds me of Miss Universe 2011 3rd runner-up Shamcey Supsup, if Shamcey had a more Caucasian heritage.  It is not surprising why she is the one usually pitted by internet denizens against the Presumed Favorite.  Though undeniably she is still one of the front-running contenders, I think the person she really needs to watch out for is someone who shares a similar heritage and is trained in the same beauty camp as her.  Rating: 9.5.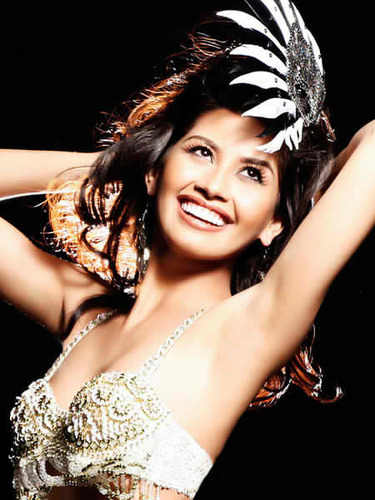 CANDIDATE NO. 2 – Cyra Guilalas.  There are some parties who might find her Asian features appealingly exotic, but in my opinion hers are not the sort that would make major impact in Miss World  Rating: 6.
CANDIDATE NO. 3 – Alexa Rae Kirby.  As winner of Miss Philippines Quest East Coast USA, she's the sole representative from a Filipino overseas community in this year's pageant.  Obviously being American does translate to an outgoing personality that could help boost her chances in this pageant and advance all the way to the finals.  Rating: 9.
CANDIDATE NO. 4 – Priscilla Kimberly dela Cruz.  I actually find her mestiza features appealing and she made a major buzz in the Talent competition with her emotional, dramatic, interpretative dance.  I think she can make inroads into the semifinals.  Rating: 8.
CANDIDATE NO. 5 – Gazini Christiana Granados.  She caused major buzz during the screening, that she is deemed a major favorite for the finals but it simmered down somewhat as the competition wore on.  She still looks like a shoo-in for the semifinals, and is still a finals possibility, though there are some possibilities for upsets and her standing in the Final Five is not guaranteed.   Still she's a contender worth reckoning. Rating: 9.
CANDIDATE NO. 6 – Kristine Angeli Estoque.  If the franchise was still in Binibining Pilipinas hands, this lady may have a better chance in garnering this title.  I know there are parties out there who would dig her native features, and in some angles she reminds me of our 2010 representative to Miss World, Czarina Gatbonton.  But now that it is under a different franchise-holder, she could simply be a semifinalist contender but may not go further than that.  Rating: 7.5.
CANDIDATE NO. 7 – Rachel Louise Peters.  Here is another Fil-Brit who is making major waves–in fact sometimes even overshadowing her co-beauty camp ally Lorraine Kendrickson.  She deservingly garnered a Best in Swimsuit special award when they had a mini-competition in sponsor province Camarines Sur, and she proved she has stellar stage presence.  It's a bit intriguing that she's one of the six who did not perform a talent in the Talent competition–I wonder if that would hurt her overall prospects in this competition.  I'm also slightly concerned that she might be packaged too sleekly by her beauty camp, which made me imagine a Carlene Aguilar scenario* if she gets to win the right to compete in Miss World.  Anyway, if in case this doesn't pan out, I would recommend she go for Bb. Pilipinas as her super-buffed va-va-voom figure and stage presence would be very much welcomed and she would be a shoo-in for one of the titles they have on offer.  Rating: 10.
* Faring as well as Carlene Aguilar is not really a bad thing, as Carlene made the Top 15 in 2005, but it was a let down from the finalist finishes we enjoyed with Mafae Yunon and Karla Bautista two years in a row, and Carlene was actually deemed the favorite to win it all that year.
CANDIDATE NO. 8 – Rachelle Emmylou Carandang.  She is cute and would be considered a major babe in real world terms.  But in pageant standards, she's would just be a worthwhile contestant.  Rating: 7.5.
CANDIDATE NO. 9 – Ranielah Marie Oval.  Her native features may give her more serious inroads to the title if the franchise holders were Mutya ng Pilipinas or Binibining Pilipinas.  But under the current franchise, being a candidate is probably as far as she can go.  Rating: 7.
CANDIDATE NO. 10 – Grace Ann Bautista.  See Candidate No. 2 above.  Rating: 6.
CANDIDATE NO. 11 – Moriel Monique Olea.  She has an attractive face, in my reckoning, but she is not making an impact in this pageant so far.  Rating: 7.5.
CANDIDATE NO. 12 – Christine Balaguer.  Last year, Miss World Philippines featured a Muslim contestant who due to her faith had to constantly cover herself with a one-piece swimsuit and/or a shawl during swimsuit competitions, but thanks to her intelligence and gift of gab, managed to go far in the pageant, managing to finish 2nd runner-up–Zahra Bianca Zaldua.  This year, there is another "special" girl, this time not because of her religion, but because she is hearing-impaired.  Just like Zahra Bianca, she may not be that highly regarded by pageant fans and pundits based on "conventional criteria", but her "special quality" may make her pull off a major upset.  Rating: 8.
CANDIDATE NO. 13 – Kimberly Anne Sarreal.  She seems attractive, and looking at pictures of her Talent performance it looked like a standout, but she is not receiving any kind of buzz.  Her talent costume and props (with two backup dancers) seemed visually striking, but considering that pageant bloggers did not even post video or wrote about it, apparently it seemed the execution fell short.  It seems the same might be said about her overall performance in this pageant.  Rating: 7.5.
Images courtesy of Jory Rivera and Melvin Sia for OPMB Worldwide unless otherwise indicated,
COMING UP: CANDIDATES 14 TO 26 and the "FEARFUL" FORECAST