I got six of my Top Ten forecast correct and three of the Top Five, an improvement over last year's forecast.  But adding my "Bubbling Under" choices, I only got seven and totally missed out on three entries (unlike last year where all the ones I didn't pick in my Top Ten were in my "Bubbling Under" list.  This list is also notable for featuring two returnees from previous contests exceeding their previous standings, with one bringing forth her country's best finish thus far.
It's interesting to note the scoring is diffused this year compared to most years, as the Top Ten took a share of 66% of the total available points–the normal average is about 70% and last year it was particularly highly concentrated at 83%.  With this year's caliber of entries, I can understand why the scores are more dispersed to give credit to other worthy entries than usual.
I am posting below the table the compares the scores and rankings using the 2015 system versus the new one, as I'll discuss this extensively below.
10TH PLACE: BELGIUM (Laura Tesoro, "What's the Pressure").  What a difference two months would make.  When all the entries were made known by early March, this was regarded as a likeable also-ran, with many fans stating they feel the song was "nothing special".  But then she released her official video, and positive buzz started to rise and fans started to reconsider and think that this could become a contender for the final.  Then came buzz from the rehearsals, with her entertainingly funky presentation loaded with swag and attitude featuring singing-and-dancing backup performers, and she's then rated as a final shoo-in and a Top Ten possibility.  As the jury votes in the final was unveiled, we learned she finished at an admirable sixth place.   It's partly expected that she'll be weaker in the televote (she landed 16th), but it's great that she's able to sustain the strong finish by her predecessor, Loïc Nottet.  I also have to note that if we use the ordinals, she actually ranked higher with the juries and televotes (5th and 14th respectively) and would've been 9th overall using the 2015 system and in raw ordinals.
9TH PLACE:  LITHUANIA (Donny Montell, "I've Been Waiting for this Night).  Few fans expected that he'll outplace his fellow Baltic Boys colleagues from Latvia (Justs) and Estonia (Jüri Pootsmann), but it turned out he ended up outranking both.  Yes, this song was better than his previous entry four years ago, "Love is Blind", and he developed a slicker persona, but many (including myself) expected that with a high caliber of competition it will be a middle-ranked entry at best with Justs making the Top Ten.  I also have quibbles with his hairstyle and the simplicity of his presentation (the only "edge" is the high trampoline leap and jacket drop prior to the song's climax), but the LED floor helped jazz up that austerely simple presentation.  The goodwill he gained from his respectable 14th place finish four years ago helped him gain lots of points from the jury and televote, ranking 12th and 10th respectively.  Interestingly, he actually got more points from the jury (104) than from the televote even if he ranked higher in the latter.  I think it can be argued this is Lithuania's best entry ever, and I'm fine that he delivered his country's second-best finish in this contest thus far (though to my reckoning, I will never recognize the 6th place success of LT United's horrendously dreadful "We Are the Winners" back in 2006 and declare Donny was indeed Lithuania's finest).
8TH PLACE:  POLAND ("Weird Al" Yankovic Michał Szpak, "The Color of Your Life").  It was expected this entry would fare well with the televote (especially since Poland has a significant diaspora across several European nations.  But little did we realize how polarizing this entry turned to be between juries and the general public–it was 2nd to last with the juries with a mere seven points.  Judging from his semifinals performance, I can understand the low jury vote as he was shrieking at the song's end.  To his credit though, for the final, he was able to temper the shriek.  As I learned that this entry was one of the Top Ten in the televote, I was expecting this to place probably between 6th to 10th.  But it turned out it ranked third and garnered a whopping 222 points to catapult it to 8th place overall, providing one of the most jaw-dropping results moments ever in this contest.
7TH PLACE:  ARMENIA (Iveta Mukuchyan, "Lovewave").  Based from buzz by Eurovision fan sites, many expected this entry to make the Top Five, and maybe even equal or exceed the 4th place finishes of Sirusho and Aram Mp3.  I was a tad surprised as the points were revealed that she didn't rank higher as her performance and presentation was fierce and flawless as usual, and performing last should've given her an edge,, but it's still a strong finish, nevertheless.
6TH PLACE:  FRANCE (Amir, "J'ai cherché").  I was not surprised he did very well with the juries (ranking third) as the song is simply so good.  But I noticed during the live final he didn't do the expected key-change towards the end of this song like we hear in the Eurovision recording–he reverted back to the regular key of the original version.   Regardless whether he managed to hit that high note or not, however, the song and singer are loaded with so much puppy-dog charm that I'm pleased he was able to connect with both juries and the viewing public.  He did deliver his country's best finish in almost 15 years, and if we look at ordinals and the 2015 system, he could've ranked 5th overall instead of…
5TH PLACE:  SWEDEN (Frans "If I Were Sorry").  I was surprised it ranked high as most pundits felt his austere presentation might be a turnoff.  But, I have to accept it's a solid, modern pop song, and modern audiences respond well to the Ed Sheeran-like sound.  It officially ranked 9th in the juries and 6th in the televote, pipping away from France by four points.  If we look at ordinals, its jury rank would actually be 12th as even if it got the points to rank 9th, there are 13 countries that ranked it in the bottom 10 (17 to 26), dragging the ordinals down.
4TH PLACE:  BULGARIA (Poli Genova, "If Love Was a Crime").  Many fans felt that Poli needs to be vindicated for "Na Inat" not advancing to the final back in 2011.  It turns out, not only was she vindicated by advancing to the final, but she delivered her country's best showing in this contest yet by placing 4th overall, beating the 5th place finish by Elitsa & Stoyan nine years ago.  This ranked 5th in televote and 7th in jury points, though I have to note based on average ordinals for the latter, she actually averaged 4th outranking Malta, Russia, and Belgium, showing that juries that did not give her points have a higher regard for her than those three.  I rejoice at this great showing and I concur with many who believed that this entry deserved Bulgaria's best-ever showing because this is its best-ever entry thus far.
3RD PLACE:  RUSSIA (Sergey Lazarev, "You Are the Only One").  Yes, Sergey Lazarev sang terrifically on point.  Yes, the song is catchy as hell.  Yes, the splashy LED effects and 3D effects were a visual treat–even if it inspired a meme where it is compared to a Super Mario video game.  And yes, Sergey is by all accounts a very gracious gentleman with a gay-friendly attitude.  It was the favorite to win by many fans and oddsmakers.  It won the popular vote with 363 points and all 41 countries putting it in the Top Ten.  So what stood at its way for a near guaranteed win?  Two things:  first, Russia is still being run by Vladimir Putin with his notorious proclivity for foreign aggression and antagonistic policies against the LGBT community; second, competing against this entry is a quirky spectral jazz sibyl who wrote and performed the song that reminded everyone of the past and present atrocities committed by this country–more on her later.  As a result, the juries scored it in fifth place–and the placement would've been worse if we use ordinals as it would drop to eighth as 11 of the 21 juries that didn't grant this entry points placed it in their bottom ten.  It's understandable that one of the writers of this entry, the famous Philipp Kirkorov, was upset and clamored for the EBU to dilute the impact of the jurors.  I also feel sad that this great entry (my favorite entry from this country ever) didn't win, but it seems that as long as Putin is in power, no one will feel comfortable with the prospect of Russia winning and being granted the right to host (even if they promise a lavish production like in 2009), and will most likely to be marked down by the juries moving forward.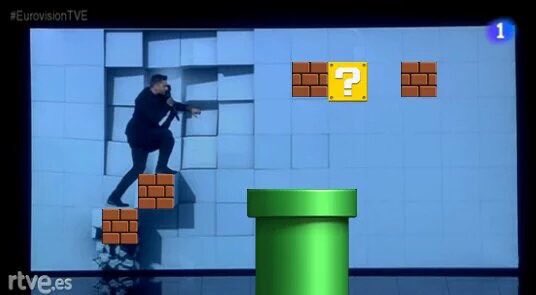 2ND PLACE:  AUSTRALIA (Dami Im, "Sound of Silence").  Unlike Croatia's disastrous attempt at avant-garde, Dami's asymmetrical white gown drew raves.  She sounded a bit strained hitting the high notes of her sleek, dignified pop ballad during the final, but even that strained register still sounded awesome and fitting with the passion needed for the song so it's no surprise she won over the juries and garnered 320 points, with douze points from nine countries.  She only came in fourth in the televote with 191 points, but I checked the number of countries that granted her points compared to third place Poland, and she actually got points from more countries, 37 compared to Poland's 35.  Only the Armenian, French, Italian, and Montenegrin public didn't give her a Top Ten placement.  The key why Poland garnered more points was that while both got two douze points (from Albania and Malta for Australia and from Azerbaijan and Belgium for Poland), Poland got eight dix points compared to Australia's  one dix point (from Denmark).  If the 2015 system was in place, this could've been the winner as shown from the table from the top of this page, as if the juries and televote were combined she would've garnered points from every country as if she missed didn't garner points from the televote it will be offset by the points it got from the jury and vice-versa (especially since in the countries she didn't garner points, it only missed the Top 10 by very little).  In some ways, it's such a shame she missed the opportunity in victory because they changed the system, and admittedly I would've preferred this to win instead of…
CHAMPION:  UKRAINE (Jamala, "1944").  This jazz-pop singer of Armenian and Crimean Tatar descent is normally a sweet, happy soul with a quirky sound, as evidenced by songs like her 2011 attempt to become the Ukrainian representative, "Smile".  However the Russian re-annexation of Crimea two years ago affected her deeply especially since her great-grandmother was one of the victims of Joseph Stalin's purge back in the aforementioned year, and this recent incursion may adversely impact her relatives who returned there over a decade ago.  So from the happy, quirky jazz popster, she transformed into a spectral sibyl (a sibyl is an oracle in an ancient temple) and composed this ominously harrowing jazz-and-R&B-inflected art piece.
The song's lyrics were not directly political even if it references a historical political event, which is clearly why it garnered headlines for being "political"–but then again the English lyrics sound universal enough that it could be applied to any situation that involves a persecution, like what's going in Syria, South Sudan, and many other places currently.  It's not an easy listen, though anyone willing to do repeated listens would be rewarded.  Listen to the minor-key groove and you will hear traces of the 1972 R&B masterpiece from the Temptations, "Papa Was a Rolling Stone" and Massive Attack's1991  trip-hop classic "Unfinished Sympathy"–although Jamala herself noted in interviews she was inspired by Radiohead's 2011 album The King of Limbs.  Then, there is her singing–her otherworldly wails may sound unpleasant to some ears, but no one can accuse her of being off-key or less-than-soulful; most would relate to the pain and anguish behind them, as if she's channeling all the souls of those Crimean Tatars displaced or killed under Stalin's purge in that aforementioned year.  The lyrics and her singing transport you to this very dark situation, and you cannot help but at least empathize with what was going on.
But clinching the deal was her wardrobe and staging.  Her navy blue tunic-and-trouser ensemble may be modern and chic, but the tunic's style does have a Grecian feel to it that is why the term "sibyl" is apt.  The staging was tasteful and impressionistic–the lighting and LED effects evoked an otherworldly spell, and the song's climax evokes the channeling of souls of all the victims gathering around her and then being unleashed into a glowing tree that implies both memory and healing.  It's a cathartic experience for everyone involved, from Jamala herself to the audience watching the performance.
In the televote, she achieved a near consensus as she garnered points from 40 of the 41 possible countries–only Iceland was the one whose viewing public were not that into her (but actually it was close–it was 11th there).  In the juries, there were 17 countries that didn't grant it points (which reflects a dispersed opinion on the juries' side), with the Czech, Maltese and Russian juries ranking it in 24th place.  Anyway, in both juries and televotes she finished second in both, and amassed enough points to become the overall winner, even if the average ordinal analysis (and the 2015 system) would've generated a different winner.
As much as I would've preferred Australia as the winner (as it could've been if we used a couple of different systems), I'm not at all upset with Jamala's win.  Sometimes it's necessary that songs with dark topics are allowed to prevail to shed light at the existence of harsh truths, and as much as this is not expected to make serious impact in the record charts, it stands tall as a work of art.  There were petitions to the EBU to change the results by fans of the Russian entry, and they wanted to add fuel by the fact that there was video footage that existed where she performed a full Crimean Tatar version of this song (as "Bizim Qirim [My Crimea]") in May 2015, much earlier than the September 2015 cutoff the EBU set for release of entries to the general public, but an exception was granted as it was not "released commercially" at that time and the number who witnessed the performance was not sufficient enough to bring unfair advantage for this entry (and there were several precedents to grant this exemption).  I agree with the EBU to let the results stand as it is.
I know with the limited resources that the Ukrainian broadcaster has, I'm not expecting next year's Eurovision to be as spectacular as this one, and I doubt Ukraine will be able to field presenters as terrific as the combo of Petra and Måns, but I'm still hopeful that with Swedish broadcaster SVT offering its assistance, Ukraine will be able to pull off a great show next year.  I also have a wish that I hope they would grant–since Ukraine's entries are predominantly divas, I like to see an all-diva reunion for next year's opening or interval act–it would be awesome to see Tina Karol, Ani Lorak, Svetlana Loboda, Alyosha, Mika Newton, Gaitana, Zlata Ognevich, Mariya Yaremchuk, and Ruslana on the same stage with Jamala, with perhaps the two champions then performing a duet.  Okay, perhaps you can add Verka Serduchka to the mix even if she's not quite a good fit with the aforementioned, if you catch my drift (and apologies to the two other male acts who'd get the short shrift).  Will the Ukrainian Diva Summit be realized?  I'll see how everything unfolds in May next year.
JUST ME!
JOSEPH