Two Thursdays ago, the world was rocked again by the loss of another musical legend–Prince was found dead and unconscious in the elevator of the Paisley Park complex, his home and workplace for almost three decades.  When I learned of the news while I was working from home
, I was a bit heartbroken as this artist was an integral part of my memories growing up.
I first learned of Prince during my second year of high school, as I started following the US Billboard charts and religiously followed the Top 10 songs as published on the tabloid Tempo in those days.  When I saw the song "When Doves Cry" and the name "Prince", I was perplexed as I had no clue about him then.  A couple of weeks later, the music video clip shows on TV got to air the video for "When Doves Cry", and I was first repulsed by his features then (as, well, I was still conditioned by my mother's notions of beauty, which are of the milquetoast 1950s kind), but his music was very different and intriguing.  As "Let's Go Crazy" and "Purple Rain" started rising up the charts, I decided to purchase the Purple Rain cassette.  I was hooked, but I also blushed when I got to the track "Darling Nikki"–clearly I should never play this tape when my mom was around…
As the rest of my high school years wore on, there was of course more Prince output.  I got the follow-up to Purple Rain, the psychedelic Around the World in a Day, especially because I so adored his launching single, "Raspberry Beret"–it's one of the songs I think I could confidently sing if I go out on a videoke with friends and colleagues (two other songs I can sing decently:  Green Day's "Boulevard of Broken Dreams" and Oasis' "Wonderwall").  There wasn't an upfront raunchy track like "Darling Nikki" (though "Tambourine" came close) and here I learned about the dichotomy Prince has been exploring about the spiritual and the carnal (like the closing tracks to that album, "The Ladder" and "Temptation").
The video clip shows at the time got to show two Prince hits prior to his Purple Rain breakthrough, like "1999" and "Little Red Corvette", and I got to learn more about him while reading issues of Jingle chordbook magazine.  Then he intrigued me further when he came out with the spare funky number "Kiss".  The falsetto and the sparse arrangement was nothing like I heard anywhere, and I found it odd at first, but I became hooked at the oddness and the quirkiness.  Even to this day, that record remains utterly unique and fresh.
High school graduation featured Prince in a somber and socially conscious mood with "Sign O' The Times" from his soon-to-be classic album of the same name.  In some ways the turmoil reflected of my times, as my school was hit with a teachers' strike just weeks prior to our graduation (though all got settled very shortly and we got to graduate without any incident on schedule).  As I begin my college days in Ateneo, I met a classmate who had a major passion for Prince.  Me, being a Billboard chart enthusiast, I shared how well Prince's next Top 10 single out of "Sign 'O' The Times", the Sheena Easton duet "U Got the Look" was faring, and a friendship was born.  We talked a lot about music and he shared me tapes of other musical acts, like for instance, two of Peter Gabriel's eponymously titled solo albums (one with the classic "Solsbury Hill", the other with "Games Without Frontiers" and "Biko").  We teamed together on group projects (sometimes being a two-man group), and I hung around his dorm room from time to time, which was helpful when storms came and I couldn't be picked up by my father in school immediately.*1
*1 During those days, it was still viable to commute or drive from my home in Sta. Cruz, Manila to Ateneo de Manila–it was normally an average 45-minute drive in those days; these days the same trip would take about two to three hours each way, though an LRT-2 ride from Recto to Katipunan would help keep that trip within the timeframe of those halcyon days.
Admittedly I did develop a crush on the guy, but as it was then and would ring true now, as far as I know I never acted inappropriately towards him, and I wouldn't give in to my impulses as I'm aware I won't have his consent, and I value his friendship and company and wouldn't want to ruin any relationship.  Still, during the summer interim before 3rd year in college (the course I took had summer classes so it can be a 4-year program instead of a 5-year one), he started becoming distant and giving me a brusque cold shoulder.  He never said why in front of my face, but I wished we had a conversation about it–but in hindsight, I think neither of us would have the maturity then to sort things out and be open and frank about if I was crossing any boundaries, as I'm often unaware of them.  I was devastated and heartbroken when I realized what was going on.  About  a year later, Sinead O'Connor released her famous cover of the song Prince wrote for one of his protege bands, The Family, "Nothing Compares 2 U".  Though this guy was NOT the love of my life, the emotions and sentiments conveyed in this song just fit my mood, and it was for years my all-time favorite song.
Since Sign 'O' The Times, Prince never made an album that was universally acclaimed, and though each would feature brilliant moments, it was often inconsistent.  I haven't followed his career that intensely since he released 1992's unpronounceable-titled album (often referred to as the "Love Symbol") but he still generates headlines from time to time especially with his lengthy battle with his then-record label, Warner Brothers.  It was perplexing at the time, for instance, when Prince changed his name to the aforementioned symbol in 1993.  But when he reverted back to his original name seven years later, the rationale and creativity of his move was made clear–under the name "Prince" he was under contract with Warner Brothers, and was bound under this contract until the year 2000.  But since Prince was dissatisfied with his deal with the record company, and knowing how Prince cannot be shackled musically, he used the name change to be able to record music under his own independently established label (NPG Records) while his old label can still release his older music (since he has so much of it) under his then-former name.
The key highlight for most people under his "symbol" years would most probably be "The Most Beautiful Girl in the World".  It's a sweet, lovely pop ballad that I would forever associate with the hosting of the 1994 Miss Universe pageant in our shores.  In fact, after Sushmita Sen's win, some TV specials about the pageant would play this song in intermission.
Since he reclaimed his name, he has not made an impact on radio.  And with his very protective stance about copyright, listening to his newer material is hard to come by.  Despite a bit of an album renaissance with Musicology (thanks to his innovative tactic of bundling his album with still-much-in-demand concert tickets–which led Billboard magazine to set a rule change that albums-bundled-with-concert-tickets would only count if there is an opt-out option not to buy the album with the ticket) and 3121 but the singles from them are not as impactful and minor hits at best.  He would sometimes upload videos of new singles on YouTube, but he would then pull them out after a limited period.  I suppose Tidal is the only acceptable streaming alternative for him since it's the one that is most "artist-friendly" (especially since it's co-owned by rapper Jay-Z) with royalty payments that he deemed acceptable.  Still, most of the public would tend to prefer the streaming services with free access options like Spotify, YouTube, and Apple Music, and I'm not really in the position to exactly is a "fair" compensation for artists from streaming services, though there are a lot of people who figured out how to thrive and make a living out of free streaming, right?  But I do respect Prince's stance in protecting his copyright, even to my detriment in enjoying his music.  Despite not figuring in the hit parades, Prince still generates profile buzz from various post-awards-show-party gigs, concerts, TV specials, and awards show appearances.  But one big post 2000s highlight was his appearance in the 2007 Super Bowl, where he played a set of his greatest hits along with some choice covers like the Foo Fighters' "Best of You", Creedence Clearwater Revival's "Proud Mary" and Jimi Hendrix's "All Along the Watchtower".  See that epic performance below:
His music of course permeates still and he remains influential.  You can hear his sound in the likes of D'Angelo, Justin Timberlake, Nick Jonas, and so many others.  But one unlikely hit song that I saw a Prince influnce was one of One Direction's latest songs, "Drag Me Down". Many might see homages to the Police and Men at Work, but when I listen to the chorus, I always hear the chorus to Prince's 1990 hit from his flop movie Graffiti Bridge, "Thieves in the Temple".  Check out the choruses of both songs to compare.
About seven years ago, we lost a legend with Michael Jackson, and now we lost Prince.  I'm wondering about another legend who had her biggest successes in the 1980s and is also born in 1958 in middle America*2 like those two–Madonna.  It makes me wonder if seven years from now, when Madonna's 64 to 65, if she'll join them in the afterlife.  I'll probably keep an eye out seven years from now if Madonna fits in the cycle, as these three legends seemed too uncannily intertwined from what I'm seeing…  Reminds me of a meme that I saw featuring Whoopi Goldberg's Oda Mae character from the 1990 movie Ghost and her famous warning to Demi Moore's character, (though it was also addressed to other artists popular in that era like George Michael, Elton John, Cher, Tina Turner, Sheena Easton, and Cyndi Lauper).
*2 Prince was born on 07 June 1958 in Minneapolis, MN; Madonna on 16 August 1958 in Bay City, MI; and Michael Jackson on 29 August 1958 in Gary, IN.  MN (Minnesota), MI (Michigan), and IN (Indiana) are considered part of the Midwestern United States.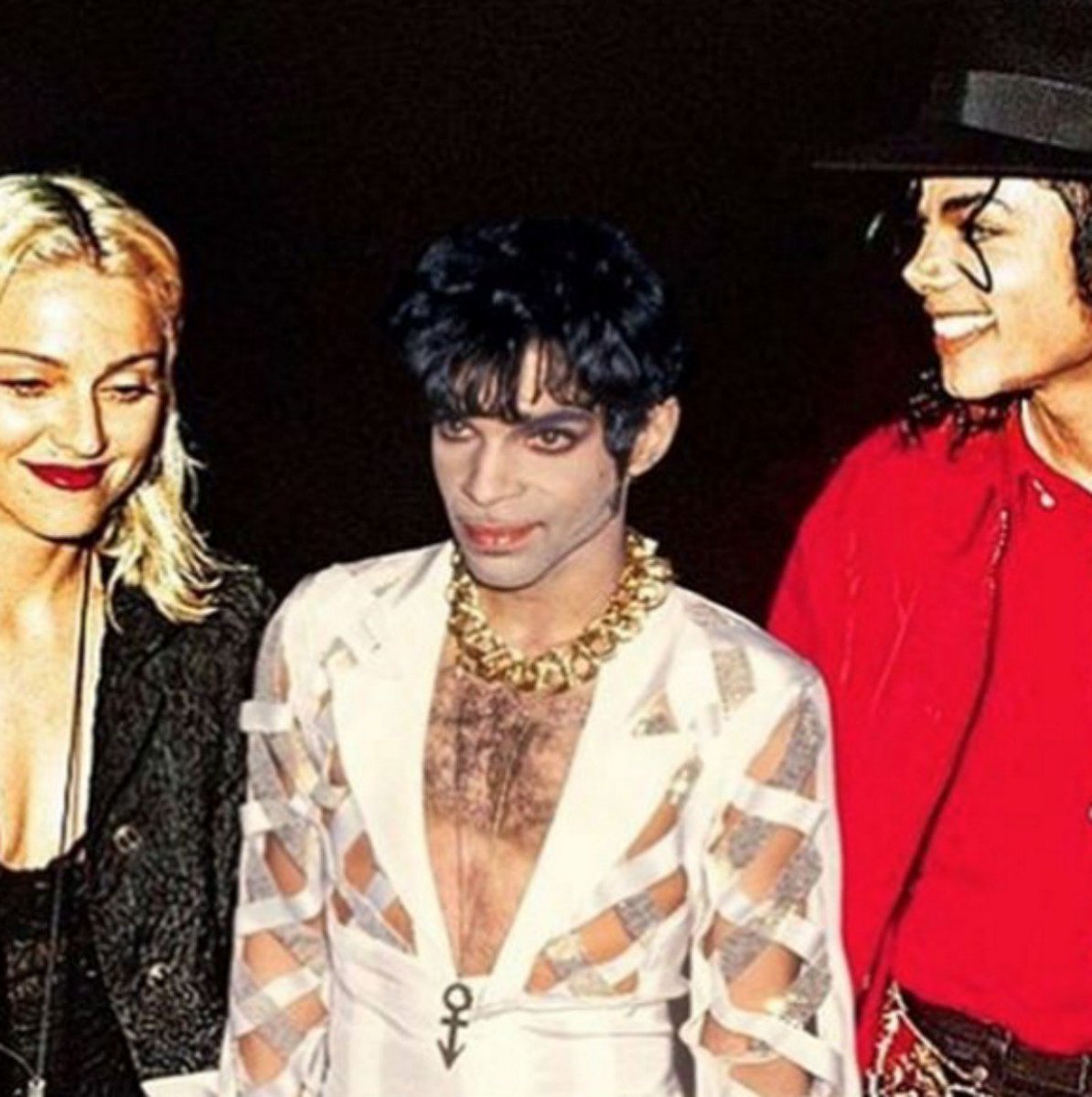 Despite the circumstances surrounding his death becoming evident as bieng related to an addiction to prescription painkillers (just like Michael Jackson), it's clear that Prince is an undeniable good influence in this world.  I may disagree with some of his views and his temperament, but he has laid an undeniable imprint in my psyche.  With the "afterlife" and "elevator" imagery of "Let's Go Crazy", and the beauty of the latter-day prescient ballad, "Sometimes It Snows in April" (check D'Angelo and Maya Rudolph's Prince cover act Princess at the Tonight Show with Jimmy Fallon) I'll never be able to listen to those songs the same way again.  Rest in Peace, sweet Prince.
JUST ME!
JOSEPH
P.S.  I'll do another part where I'll count down my favorite Prince songs, then complete my long-in-the-works sections on my tribute to David Bowie, along with other major legends we had lost this year thus far.  But I'll have to hold them back until the end of Eurovision season, as it's currently underway…