CANDIDATE 13:  Kathryn Jade Cudiamat.  For many Filipinos, her girl-next-door mestiza features are highly appealing.  Will that be enough for her to advance to the Top 15?  Rating: 8.
CANDIDATE 14:  Cristina Marie Coloma.  She's actually a great looking native lady who deserves more notice than what she's getting right now.  Rating:  8.
CANDIDATE 15:  Laura Lehmann.  This Bb. Pilipinas 2014 1st runner-up was deemed by most pageant fans and pundits as perhaps the one to beat.  But it seems as the activities wore on her status as the "chosen one" is less assured as it seems, as she figured in only two challenge events, Multimedia and Top Model.  But no one can discount her highly regarded gift of gab, which bodes well with the crucial interview rounds.  I'm still betting on her to win, though there are a few more great choices closely nipping at her heels–unlike in previous editions where there is one clear winner, this is looking like a toss-up among four major contenders.  Rating:  9.5.
CANDIDATE 16:  Ethel Abellanosa.  Her native features may appeal for those who have more exotic tastes, though most Filipino fans are fixated towards fairer types.  She made the Sports shortlists.  Would that be enough for her to advance?  Rating:  8.
CANDIDATE 17:  Jellie Alliana Escandon.  She is mestiza but well, there are some harsh angles and some might quibble about her gap teeth.  She looked her best at the Zalora fashion show thus far.  She also has a great human interest angle as she's a vitiligo sufferer and considering she's raised overseas, and the high premium we tend to put towards strong English skills, those could be her tickets to advance.  Rating: 7.5.
CANDIDATE 18:  Christine Angel Alvaira.  Her figure is on the skinny side, but at least her key edge is that she's one of the tallest in this year's batch at 5'10".  With a little more polish she can go far, but at this point… Rating: 7.5.
CANDIDATE 19:  Joanna Marie Rabe.  She is actually good looking, but not quite delivering on charisma at this point.  At least she made the Sports shortlist.  Rating: 8.
CANDIDATE 20:  Trizha Ocampo.  Her features remind me of a major titleholder–Miss Universe Philippines 2014 MJ Lastimosa.  I was wondering why there isn't an intense hype machine for this lady like the famously devoted fans that MJ has?  But then again, considering she figured in Multimedia, she probably also has a strong fanbase.  Rating: 8.5.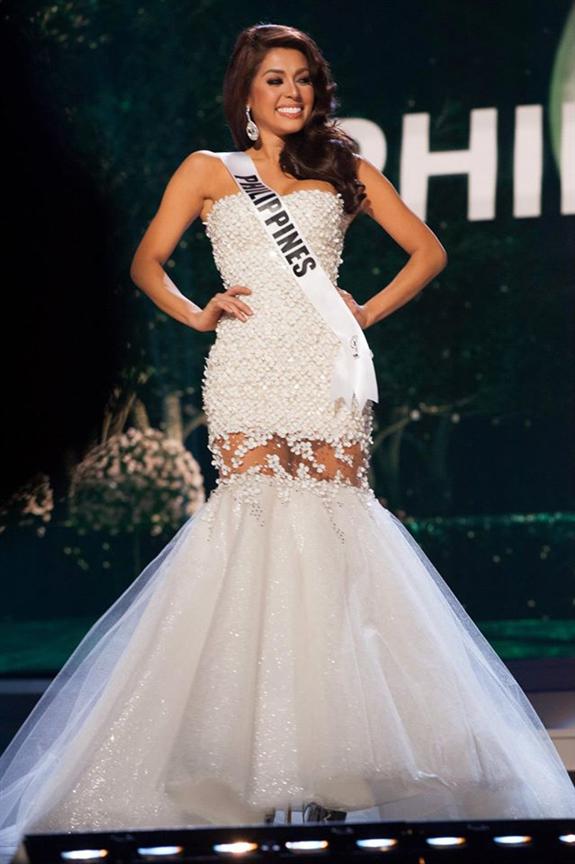 CANDIDATE 21:  Netania Deveza.  She's the joint tallest candidate in this year's group at 5'10" with Christine Alvaira.  She facially may not be the cup of tea of many, but many pageant fans and pundits take notice about her lean, trim model's figure.  Hard to believe she's only 17 years old.  She has strong potential for future modeling and/or pageant forays.  Rating:  8.5.
CANDIDATE 22:  Chelsea Anne Manalo.  She is the darkest complexioned lady in the batch as she's the daughter of an African-American father.  There are some angles that made me imagine a black version of Megan Young and if she totally sparkles, she can usurp the front-runners out there.  That dark complexion was also her ticket to make the short list in Top Model.  I'm rooting for her to advance–time for Filipinos to realize that beauty can come with dark skin.   Rating: 9.
CANDIDATE 23:  Princess Laureano.  She has a nice regal name.  and like so many in this group, she has great potential to make major splashes in future national pageants.  If she plays her cards right, she could be a sleeper possibility for the semifinals.  Rating: 8.5.
CANDIDATE 24:  Zara Carbonell.  She's gotten press ink for being the daughter of actor Cris Villanueva and model Zhara Carbonell.  She tried her luck at Miss Philippines – Earth seven years ago and didn't make the cut.  Though she receives heavy hype, I don't really quite get her looks, and her ticket to advance to the semifinals may lie on her gab and personality.  Would that be enough for her to make it?  Rating:  8.
Swimsuit Press Presentation images courtesy of Joy Arguil for Normannorman.com, all others courtesy of Miss World Philippines Organization unless otherwise indicated.
COMING UP:  CANDIDATES 25 TO 35 plus the "FEARFUL" FORECAST